McCORMICK STORIES
5 (ALMOST) MAGICAL SPICE PAIRINGS YOU NEED TO TRY RIGHT NOW
November 09, 2017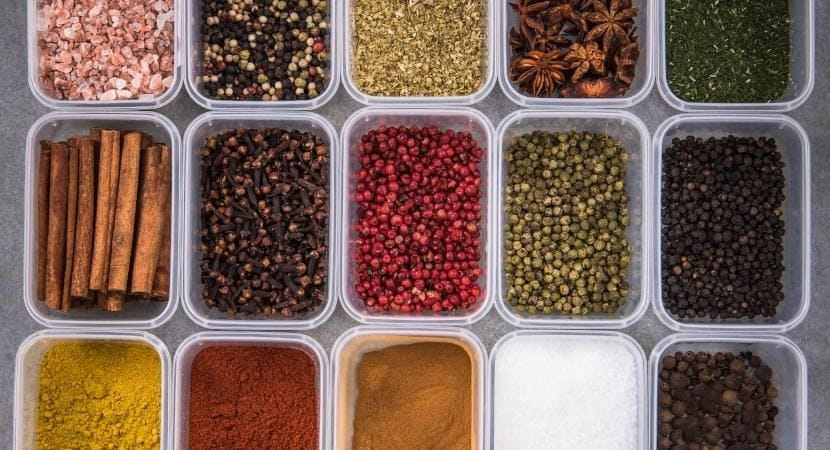 A fresh, home-cooked meal can be a great way to bond with your loved ones, a gateway to exploring new cultures or just a delicious way to eat healthy. But home cooking also gives you the chance to express yourself through food by adding vibrant flavour with herbs, spices and other seasonings. It's the best way to truly make your meals your own.
And if you're new to culinary experimentation - or you just feel a little intimidated - picking a spice pairing is the best place to start. Two seasonings are enough to get the well-rounded rich flavour of mixed spices, without the complexity (and measuring!) of having to balance several seasonings at once. Thankfully, there are plenty of spicy "power couples" that can elevate any dish. Try one of these delicious duos to start.
What Spices Go Together?
Cinnamon and Chili Powder
Separately, chili and cinnamon evoke plenty of cozy fall feelings - starting your day with a cinnamon coffee, brunching on autumn cinnamon rolls and warming up with hearty chili. Together, they equal extra coziness. Mixing cinnamon with chili powder adds unexpected delight, the chili powder adds a bold punch of spice that complements the zip of the cinnamon. Use cinnamon and chili powder to season Chipotle Cinnamon Baby Back Ribs or combine them to make a rub for chicken, fish or tofu.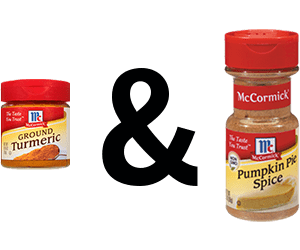 Turmeric and Pumpkin Pie Spice
We love pumpkin pie spice season (give us all the lattes!). But sometimes, this autumn staple needs a new twist. Enter turmeric, the brightly hued, earthy seasoning that also happens to be a trendy spice itself. Turmeric tastes best when coupled with strong, warming spices, so pumpkin pie spice - which is made with ginger, cinnamon, cloves and allspice - fits the bill perfectly. Use pumpkin pie spice to add flavour to your turmeric-infused golden milk. Or use the combination of spices to season naturally sweet produce, like squash or sweet potatoes, before roasting.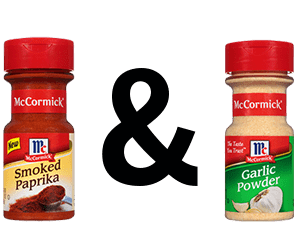 Smoked Paprika and Garlic Powder
Looking for a spicy duo that'll make your delicious dish taste amazing? Look no further than smoked paprika and garlic powder, one of the most adaptable spice pairings on our list. As a staple seasoning in many cuisines - from Italian, to North African to traditional American dishes - garlic powder works well in virtually every savory dish. Adding smoked paprika adds a layer of rich, smoky flavour, and its bright red hue will make your dish instantly camera-ready. Combine paprika and garlic to make season pork tenderloin (link to Smoked Paprika Pork Tenderloins), or to spice up a simple dish, like Rosemary Baked Chicken with Potatoes.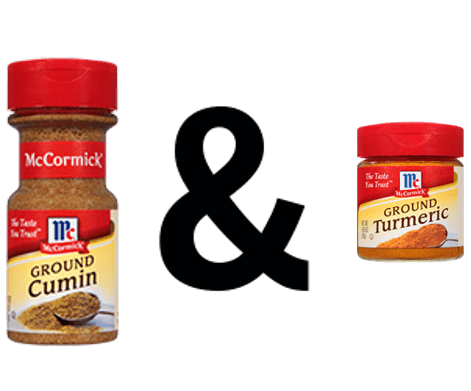 Cumin and Turmeric
If you're looking for complex and perfectly balanced flavours without a lot of effort, cumin and turmeric are the seasonings for you. Cumin adds a base of earthy and nutty flavours to your meal, while turmeric brightens things up with vibrant colour and subtle citrus notes. Use them to season shrimp with couscous (link to spiced couscous with shrimp and chermoula) for a delicious meal, or to create an Indian chicken classic (link to chicken tika masala). Because cumin and turmeric are staples in South Asian cuisines, you can also use them to make any number of DIY rubs for chicken, beef, lamb or fish.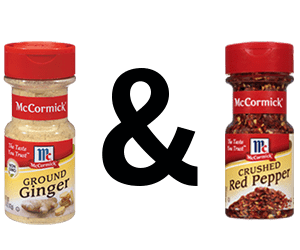 Ginger and Red Pepper
Sometimes a little heat is all you need to take a dish from so-so to scrumptious. And combining ginger and red pepper is one of our favorite ways to add unexpected spice to a meal. Red pepper's obvious kick works well with some subtle earthiness thanks to the ginger, and this pairing works especially well for adding Asian fusion flavours to your cooking. Use these fiery spices to season char siu pork that puts takeout to shame, or to make this pork stir-fry that's bursting with fresh flavour.
As you get more comfortable playing with spice pairings, enjoy customizing your dishes with a dash or two of unexpected seasoning - you never know when that hint of cinnamon or zing of ginger will create a new culinary classic!